Rock Climbing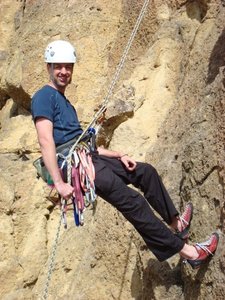 In June of 2008 I started rock climbing at a local gym, and instantly got hooked. I still can't fully explain the fascination I have with climbing, but it certainly includes an aspect of solving a three-dimensional puzzle. When I started, the easiest routes in the gym (graded 5.7) were difficult for me, but satisfying.
Within a few months I had already acquired a fair amount of gear, and I had the chance to climb outdoors (on toprope) with a good friend, (Scott DV), who was rediscovering climbing, (having climbed in Idaho years ago). We both found that there is some fine climbing to be had in the Portland area. We were just disappointed that we hadn't started sooner, because Oregon's wet season soon started interfering with outdoor climbing.
I got through the winter months by being lucky enough to find a climbing partner, (Scott D), willing to train with me 3 times a week, (and helping to motivate me to get up at ridiculously early hours to climb before work). We both took technique classes that took our climbing up a notch. By the time we were ticking off routes at 5.9, we took lead-climbing class and starting leading in the gym in January 2009.
An unseasonably cold and wet month of March kept us in the gym, where we kept at our routine, leading at 5.8/5.9 and toproping at 5.10- (with several 5.10+ projects). In April, the sun finally came out and we took the first chance we could to get outdoors with a road trip to Smith Rock and some of the best climbing in Oregon. Our first experience leading outdoors was very satisfying, (and very different than in the gym), with each of us succeeding at 5.8 leads.
Back at the gym two days later, we decided that if we're going to start leading at 5.9, we'd better be working 5.11 in the gym. So we started working our first 5.11- project. It was grueling, (and we didn't make it through the crux without cheating with some weight on the rope), but we did get to the top, and it was a blast.
One of my favorite things about climbing is that the routes are graded on an open-ended scale. It's fantastic to know that no matter how much I improve there will always be routes ready to punish me and put me back in my place.
Posted

Wed 22 Apr 2009 12:19:40 PM PDT
Smith Rock, 2009-04-18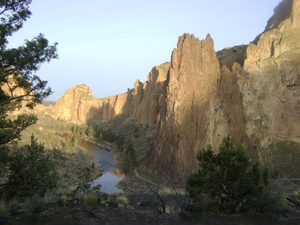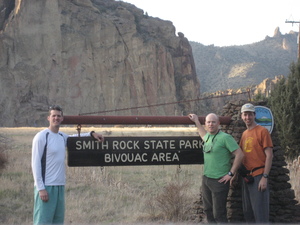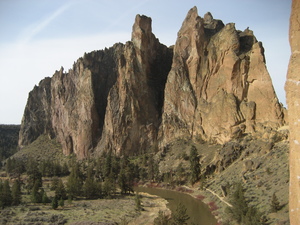 We had a fantastic time on our first climbing trip to Smith Rock. We drove down on Friday and camped at the base of the rock. Scott D. was anxious to beat the rush and set an alarm for 5:00 AM. When that alarm went off it was still quite dark and the temperature was just below freezing(!). The thought of ice-cold rock on bare hands was enough to keep us in our warm sleeping bags for a while longer, but eventually we did bundle up for the approach hike to the rock.
We got onto the rock at about the same time the sunshine did, and fortunately it warmed the rock very quickly. In fact, by afternoon we were desperate for shade to escape the heat. Large temperature swings are expected in the desert, of course, (note: next time, remind everyone to at least pack some socks). Getting to the rock early did work out quite well. We didn't see another climber for over an hour, so we had the chance to choose any route we wanted. Later in the day the most popular routes had lines long enough to make things feel a little bit like Disneyland.
Since this was our first time leading outdoors we decided to start with the easiest routes we could find in the guidebook, and work up gradually. We found some nice beginner routes in the Cinnamon Slab area just before the Dihedrals. Everything went great, and we each had a successful lead behind us well before the mobs of climbers started showing up. We might have stayed more impressed with ourselves if we hadn't seen that the next climbers on our first route were parents setting up ropes for their 5 and 6-year-old children. Look close in the picture and you'll see that just behind Scott's belay stance there are a couple of kid-size shoes, and a tonka trunk. Ah well, a little humility might even be good for us, I suppose.
Leading on this rock outdoors was very different from anything we had done in the gym. The most obvious change is that there's not any tape showing exactly where to put your hands and feet. So we all found ourselves shopping around for a while at each stance, always looking to see if we could find better holds.
And for me, at least, the psychological difference between top-rope and lead was much wider outside than in the gym. That might have been because these routes were not very steep, so any lead fall would have certainly meant a fairly quick swing into some very rough rock. I didn't realize how much I was staining, over-gripping, over-thinking and neglecting technique until I got onto toprope of a route I had just finished leading. Suddenly I was relaxed, comfortable, and moving quickly and smoothly on a route that moments before had my leg shaking wildly. So I'll definitely need to improve my ability to relax, use good technique, and just trust myself.
We stepped up the difficulty a bit when we moved over to the "Peanut" and confirmed the rumors that Smith routes have tough starts. On all of our routes in the morning the hardest moves were right at the beginning. We were glad that Scott D. brought his stick clip, (in spite of being afraid he might feel like a goober carrying around such a long pole), so we could get into that first bolt while it was still 15 feet up and have some ropes protection for the first tricky moves. And rather than seeing him as a goober, climbers nearby were grateful that Scott was happy to share his stick with them. Have I mentioned before at how friendly people seem to be in the climbing community? Everyone we met at Smith was very nice, and they didn't even make fun of us even though we were obviously beginners, (our gear was all obviously unused since it was still so shiny).
By the afternoon, we were getting a little tired of knobby face climbs on wickedly abrasive rock. We got some variety on the "5 Gallon Buckets" route, a ladder of pockets so big you could sit down inside most of them. Scott DV was anxious to lead this one and found the underclings in the pockets extremely gratifying. Just take at look at how confident he his flashing those pearly whites while on lead.
Here's a run down of the six routes we climbed. All three of us climbed each one of these with (almost) no falls at all.
Night Flight (5.5) Carl, Scott D., and Scott DV. each on lead in turn.

Easy Rider (5.6) Scott D. on lead.

Lichen It (5.8) Carl on lead.

Ginger Snap (5.8) Scott D. on lead.

Hop on Pop (5.8) Carl on lead.

5 gallon buckets (5.8) Scott DV. then Scott D. on lead.
Next time we go we'd like to lead some 5.9 routes, (and maybe bring a friend to put up some rope for us on some 5.10). One thing we didn't find was any terrain steep enough to make us comfortable to take any practice falls. I think Scott D. really missed that---sometimes I almost wonder if falling is his favorite part in this sport.
See the complete set of photos from this trip.
Posted

Wed 22 Apr 2009 12:19:40 PM PDT